June 20, 2022
Okay, let's catch you up.  What have I made since the last time I showed you my jewelry?

I wanted to try setting some enamel cabochon (cloisonné, to be specific) into traditional bezel settings.  By "traditional", I mean flat wire, not gallery wire or scalloped or serrated.  Those other wires are very easy to "push over" which is a good thing when it comes to pushing metal up against glass... but I like the look of a traditional bezel setting at times (most times) so wanted to see if I could do it.

I made two pieces at the same time (because there's a lot of "waiting" time when doing enamel... waiting for the wetpack to dry, waiting for the kiln to reach temp, waiting for the firing, waiting for the piece to cool, etc.  So if you're working on two pieces at once, you always have something to do while the other piece is in "wait" mode.  So the first one I did was inspired by a friend's water color painting.  I went off the rails and totally ignored her awesome color scheme... I got more into trying out as many new colors as I could and ended up with this.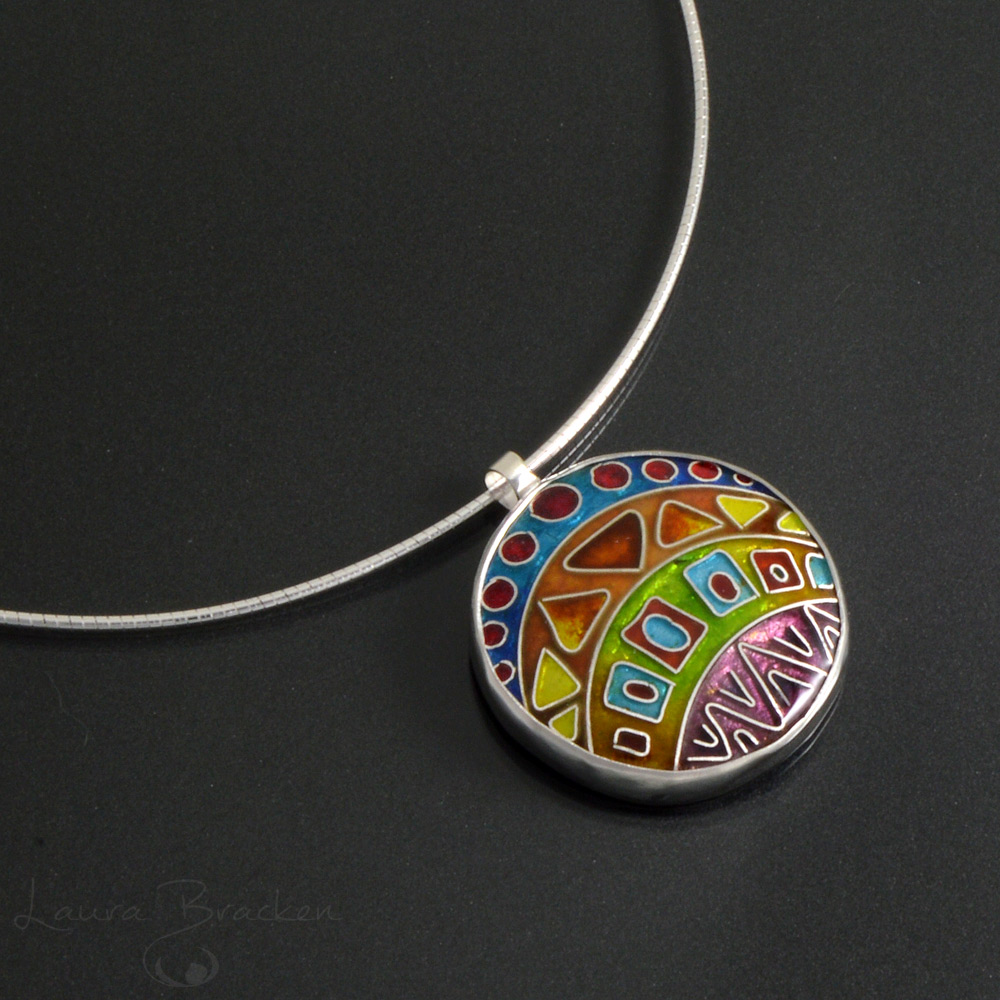 If you're not familiar with the technique of cloisonné, you start with a piece of metal (I usually cut it from a large sheet of silver or copper).  Then I anneal and dome the metal.  Next I add a counter-enamel (fire a couple of layers of enamel on the back or reverse side which alleviates some of the pressure of the enamel that will be going onto the front).  Then if I've used copper as my base I have to flux (fire clear enamel) onto the front, then I fire a thick sheet of pure silver foil to the piece, then I fire another layer of flux over the silver, then I cut and shape as many pure silver wires (the cloison) and set them onto the piece and then fire those into place.  After all that, it's a matter of building up layers of color by placing wetpack (moistened enamel that has been sifted and washed) into each cell (or cloison area).  The piece gets fired after each layer is added and I usually add about 8 layers.  After that, I sand the piece to make a level surface.  I start with 120 grit and work my way up gradually to about 2000 grit.  Then the piece gets washed and put back into the kiln for a final firing.  Yay!  After that, I start fabricating the bezel that will hold the new cloisonné piece.

Here's a photo of part of the process.  This is where I'm beginning the wetpacking of the enamel into the cells using a very tiny brush.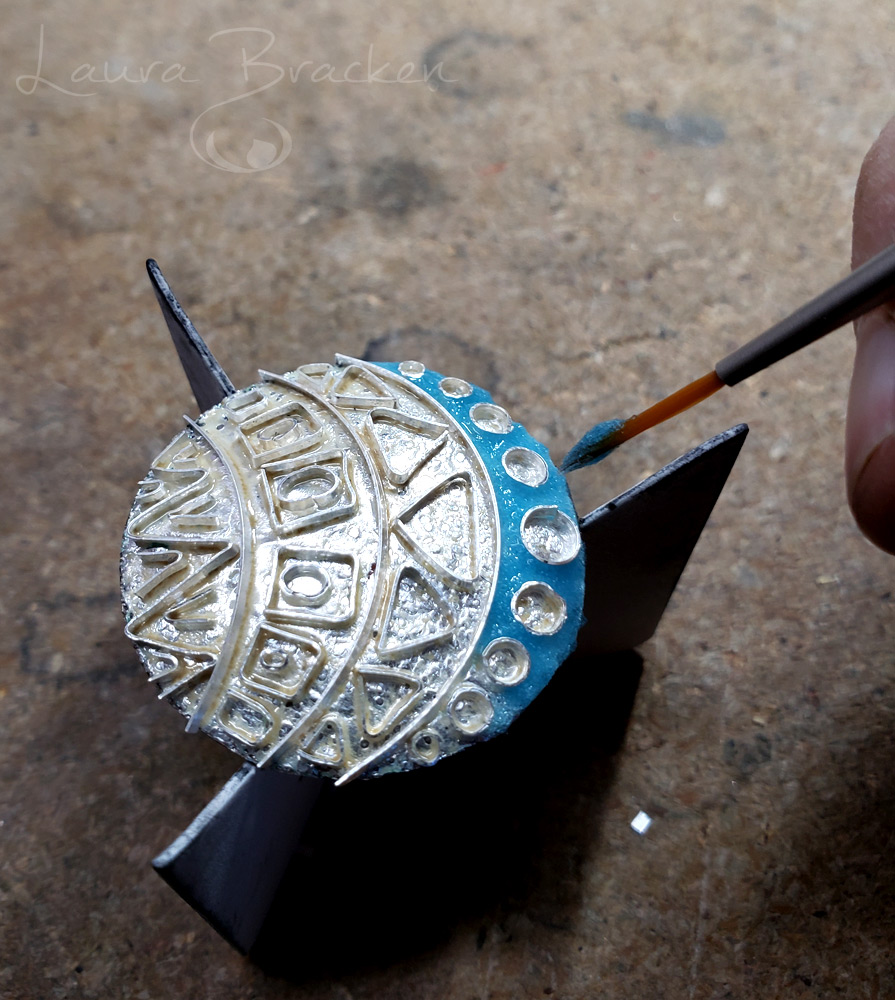 This is the second piece I did alongside that first piece.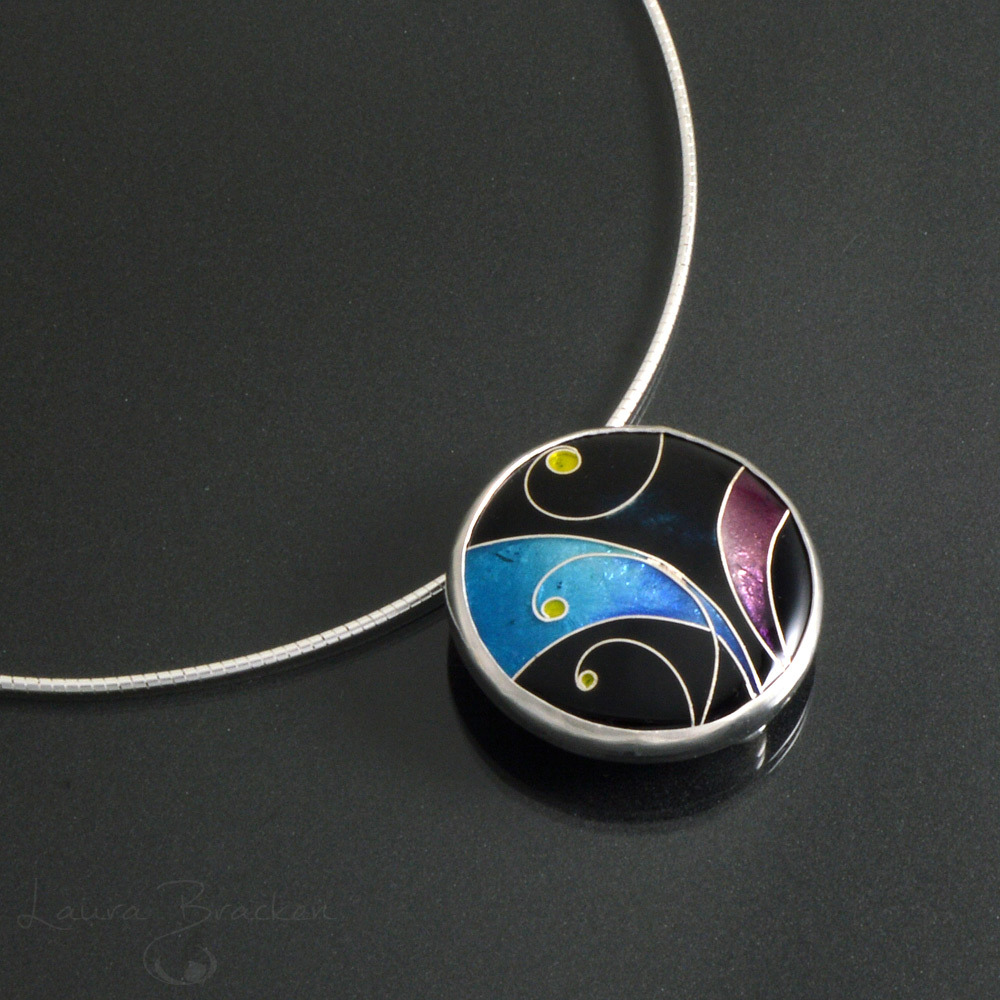 The other piece of jewelry I made was this custom order mermaid with larimar.  I created the chain from sterling silver using the technique of Viking knit.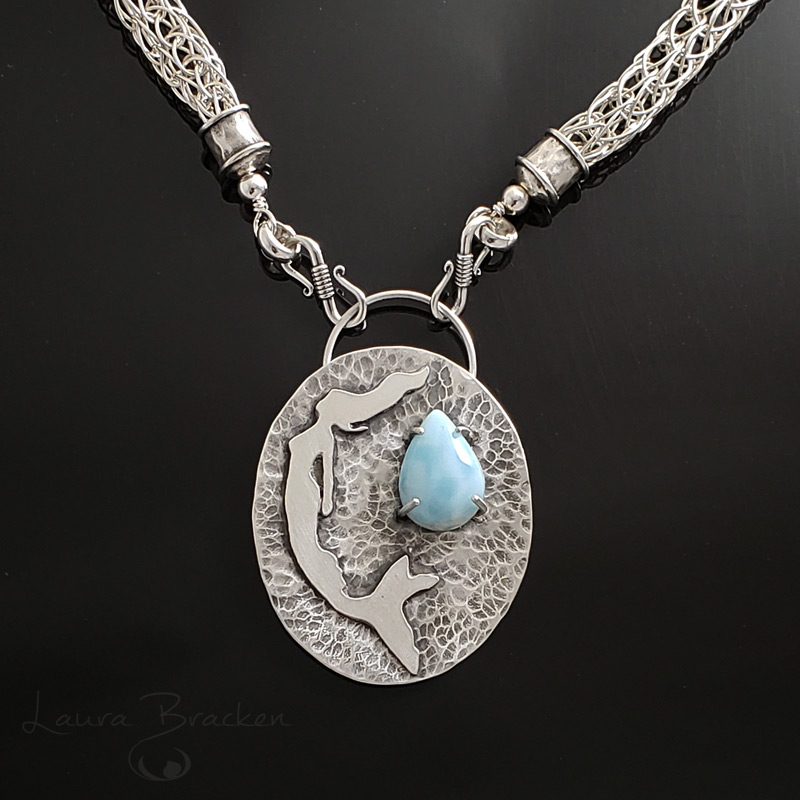 Stay tuned for tomorrow's blog post where I talk about my robot friend.